The ultimate al fresco lifestyle
When it comes to creating an outdoor living space, having a company that can create the space of your dreams from the ground up is invaluable. With a one-stop solution, if each element is taken care of from the design and build to kitchen furniture, appliances and canopy, all you have to do is sit back and reap the benefits.
Versatility 
The heart of any outdoor living space is the cooking and prep area. Working with Italian company, Officine Fanesi Outdoorkitchens, whose stainless-steel units combine style and function, Contemporary Outdoor Living offers a range of units. For a smaller space, the Via Nolfi 527 incorporates a gas hob, a four-burner barbecue with cupboards below and a further unit with an undermount sink and tap. Building on this, the Via Nolfi range can extend to include a fryer and even a wood-fired BBQ unit and all are available as island versions.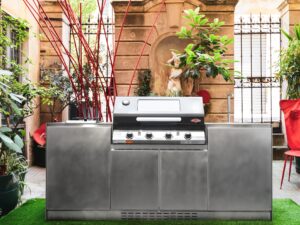 Contemporary or country?
Such is the versatility of an outdoor living space one can be incorporated into any type of building aesthetic. For a country outdoor kitchen, a pergola-covered patio works well with a combination of natural elements including tiles, stone and wood. New builds or modern buildings benefit from a more monochromatic palette, combining finishes such as stainless steel and granite countertops.
Grand Designs Live 
Each of our homes is unique and so there is no one-size-fits-all when it comes to outdoor kitchen design. This is the beauty of working with a company that can supply all of the elements. Contemporary Outdoor Living has expertise in all areas and recently showcased their work at Grand Designs Live. The NEC in Birmingham played host to this event which has become the go-to exhibition for home inspiration and expert advice.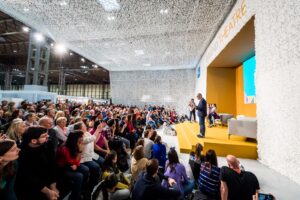 Indoor outdoor living 
Joining hundreds of exhibitors from across the UK and further afield, the event showcased every imaginable product and service with free talks and expert advice available to visitors. Sectioned into project zones for easy navigation, Grand Build, Grand Kitchens and Bathrooms, Grand Interiors and Grand Bathrooms, the show proved that the best homes are the ones where you link the indoors with the outdoors.
If you would like to make your dream outdoor space a reality, get in touch with us here!