An Outdoor Christmas
The idea of an outdoor kitchen often conjures images of balmy summer afternoons, with the gentle smell of wood smoke drifting on the breeze as you sup on a frosty glass of something bubbly. And so it should! If you're going to enjoy an outdoor kitchen, the summer is surely the time to do it. But what about in the winter? Or, dare we say it, on Christmas Day?
The thought might send literal chills down your spine, but then again, why should it? With a contemporary outdoor kitchen, you can seamlessly extend your home's interior into the outdoors, including comfortable seating, all of the fully integrated appliances that the designated chef requires, and proper heating to keep the winter chill at bay.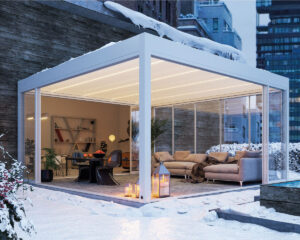 Barbequed sprouts anyone? 
For those of you who are already considering investing in a luxury outdoor kitchen, it's likely that it's because you love eating outdoors. And if that's the case, you've probably already wondered what all those traditional Christmas dishes might taste like when cooked on the barbeque. Well, we're here to tell you that you won't be disappointed! The gentle kiss of smoke has the tendency to elevate flavours to whole new heights, and whether it's a Christmas turkey or ham, or your chosen side dishes, there's something satisfying about firing up the grill that you just don't get with a regular oven. And even if cooking over coals is not for you, our gas-fired appliances are all top of the range, with sizes to suit all requirements, so even if you are hosting the entire family, you won't be left wanting for space when it comes to slotting even the biggest Christmas bird.
Give the gift of a Pergola 
From an entertainment perspective, as we already mentioned, our kitchens are more than just a place in which to cook; a contemporary outdoor kitchen becomes a bona fide extension of your home, especially when paired with a shelter from our sister company, Pergolas Direct. The Velvet Plus pergola is a great example, providing an inspired solution for those who love to entertain friends and family. This bioclimatic solution is built with retractable slats, which can be rotated open or closed depending on the weather conditions. The same can be said for the vertical screens; integrated into the structure itself, they can be opened and closed to whichever degree you require, and because these pergolas are modular, you can create a space as intimate or expansive as you require, making it not just the ideal space for Christmas day, but an enviable venue in which to host your friends year-round.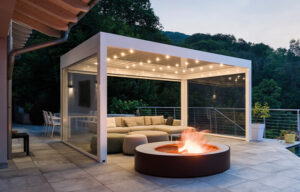 Energy Pergola
For the ultimate in entertainment, why not take it one step further and opt for the Energy Pergola? Built of the same design as the Velvet Plus, but with solar panels built into the roof, the Energy Pergola offers the ability to provide a self-sustained entertainment system, be it a projector for the obligatory Christmas films, or surround sound for your favourite festive tunes. It can also incorporate LED lighting built into the structure itself, helping you to set the mood and ambience for your guests, even on the dreariest winter day. The best part is that because it generates its own energy, you can forgo the messy and expensive job of wiring it into your mains. 
Make your Christmas wishes come true! 
Whatever your dream outdoor space looks like, our goal at Contemporary Outdoor Living is to provide fully customised outdoor kitchens, covering everything from the appliances and furniture, to the installation and even the structures to go with it – be it a pergola, or a stunning Sail Shade. We have a laser-focus on quality, sourcing our products from superb manufacturers in Italy whose steel kitchens are designed to stand the test of time. They're visually stunning, too, and can be finished in a range of styles to suit your own taste and space, and with a range of appliances to suit even the most versatile of chefs, no order is too tall.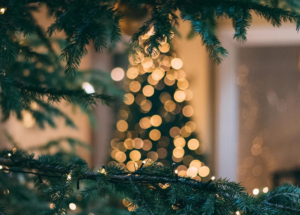 So if you're hoping to bring your outdoor kitchen vision to life, and incorporate into your garden a space in which to really wow your guests, whatever the time of year, why not give us a call or contact us here!