Out Italian Manufacturer
At Contemporary Outdoor Living, we would happily stake our reputation on the quality of the products we bring to each project. One of the reasons we're able to do so, is that we have two sister companies – Sail Shades Direct and Pergolas Direct – who for years have been providing tailored shelter solutions to clients in and around the south west. The latter, as you probably guessed, specialises in pergolas, and this month we would like to introduce you to one of our favourite products from Italian manufacturer, Gibus. Why? Because, not only is it a spectacularly versatile solution for outdoor spaces in need of shelter from the elements, it's also very well suited to the increasing number of homeowners hoping to finally build their dream outdoor kitchen.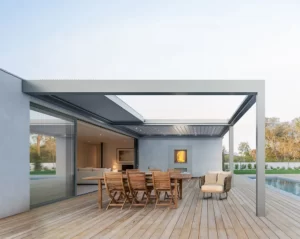 Whatever the weather!
It's called the Velvet Plus, and it's a bioclimatic pergola with retractable slats. Essentially what this means is total freedom to enjoy your space, whatever the weather. The slats can be rotated depending on the orientation of the sun, keeping eyes protected but without shutting out the light, making it perfect for husband-and-wife duos who argue about whether or not they want the sun! When dark clouds threaten, they can be fully closed to keep the rain out, and if you're enjoying a balmy summer evening under the stars, the slats can be completely rolled back to reveal the full beauty of the cosmos. While this is impressive, it isn't only the adjustable roof slats that make the Velvet Plus so popular. It also incorporates vertical screens which are integrated into the structure itself, and there is even the option of adding packable glazing, meaning that just like the roof, the screens can also be opened and closed to whichever degree you require. In other words, you can have total enclosure on days of bad weather, and blissful exposure to the best of the summer sun.
Pergola Partying
The structure also incorporates zone lighting on the slats and perimeter, with colour-changing LED strips along the frames, making the Velvet Plus a customisable space that can be shaped according to your unique wishes and needs. In the manufacturer's own words, "Velvet creates places of perfect wellbeing", which ties wonderfully with our own ethos of creating luxury outdoor kitchens for clients hoping to improve their home lifestyle.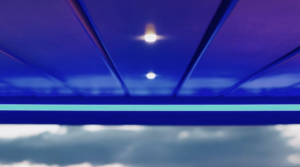 A space to escape and entertain
This inspired solution from Gibus provides the perfect area in which to entertain friends and family, and at the same time, one in which you can enjoy some treasured quiet time over a morning coffee before the day begins. But it's really the former that sees the Velvet Plus come into its own. For example, as much as we all love the smell of a barbeque, the last thing you want is for your guests to have to sit enshrouded in smoke, which is where the retractable roof can prove invaluable. Also, as any experienced barbeque chef will tell you, wind can be a real problem when it comes to ensuring an even cook, but with those vertical screens at the ready, you can effectively filter even the stiffest of breezes out! The best part, however, is that when the evening draws to an end and your guests have gone home, you can simply reinstate the roof, lift the screens and call it a night, without having to worry about covering up your equipment, or worse, put it all away.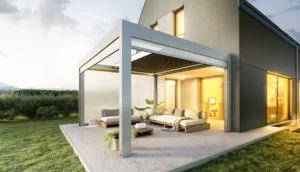 Your dream outdoor space
As with many of the products we use, the Velvet Plus is designed and manufactured in Italy, using the best available materials. It's a show-stopper that promises to be the envy of your guests whenever you entertain, and a space you'll cherish coming home to after a long day in the office, which is ultimately what we aspire to provide here at Contemporary Outdoor Living. In short, if you're among the many who have been stacking your Pinterest board with outdoor kitchen ideas but have yet to settle on a final 'vision', then we highly recommended getting in touch, not only to discuss the benefits of a Gibus' Velvet Plus, but also those of the Contemporary Outdoor kitchen we can help you install within it.
If you would like to make your dream outdoor space a reality, get in touch with us here!